Lansing, MI – Storytelling can be powerful way to share benefits of organ and tissue donation by helping audiences understand the good that can come from great tragedy, and they often inspire people to register to become donors.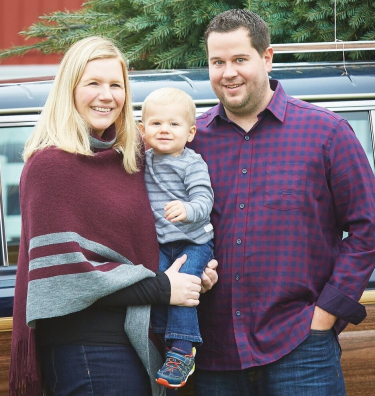 WLNS, Lansing's CBS affiliate, understands that and has consistently sought to tell the kind of stories about organ donation that can be a catalyst for good. Their compassionate approach to the issue earned them a 2020 Donation Storytelling Award from Gift of Life Michigan.
WLNS earned the award for a touching story they covered in 2019 involving a tragic automobile accident, a devastated family and a young donor who was able to save three lives through his gifts of life.
Ryan and Dana La Haie and their 3-year-old son Reed were struck head-on by a drunken driver in 2019. Dana perished as the seen, Ryan was placed in a medically induced coma due to the severity of his injuries and Reed passed away at Sparrow Hospital in Lansing. While Reed was on a ventilator, his grandparents, Pam and Doug Reed, made the decision to donate his organs, which saved three other lives.
"Ryan's story will stray with me forever because it's heart-breaking, it's emotional. It's also inspiring," said Chivon Kloepfer, the reporter who covered the story for WLNS.
She accepted the award for the station, but said it was a team effort and added that telling compelling stories is the one thing that motivates all journalists, no matter which media they work in.
"Journalists and photojournalists get into this business for a lot of reasons and one of the most important reasons it to make a difference. We tell peoples' stories," said Kloepfer, whose father received a donated liver two years ago. "We have a platform to share those words with a lot of people and that allows us to inform, inspire and make a difference in peoples' lives. It's something we don't take lightly."
You can watch the full story here.
Gift of Life Michigan honored 15 individuals and three organizations at Donation Champions. Other winners include:
Volunteer: Lydia and Ward Kimball, West Branch
Community Partner: Wayne State University, Detroit
Nurse: Elise Pavlick, Henry Ford Health System
Hospital Executive Leader: Dr. Harry Anderson, St. Joseph Hospital – Ann Arbor
Hospital Educator: Wendy Lavin, Sinai Grace Hospital, Detroit
Hospital Spiritual Care: Cindi VerHeer DeYoung, Spectrum Butterworth, Grand Rapids
Medical Examiner: Dr. Joyce deJong, Medical Examiner
Honoring Life Through Donation Award: Chad Milton, Grand Rapids
Secretary of State Employee: Kelly Davis, Shepherd, MI
Donation Liaison: Kathi St. Pierre, Northern Michigan Hospital, Petoskey
Funeral Professional: Rita Jordan, O.H. Pye, Detroit
Transplant Center Professional: Jennifer Fogarty, Beaumont Royal Oak
Multicultural Difference Maker: Terra DeFoe
Innovation Award: Phil Douma, Michigan Funeral Directors Association, Okemos
Donor Hospital of the Year: Hurley Medical Center, Flint
Legacy Award: Dr. Theresa Jacobs, Michigan Medicine, Ann Arbor