Gift of Life Michigan recognizes Donor Champions for outreach, advocacy
Gift of Life Michigan relies on more than 350 volunteers across the state and few are as active or productive as Ward and Lydia Kimball of West Branch.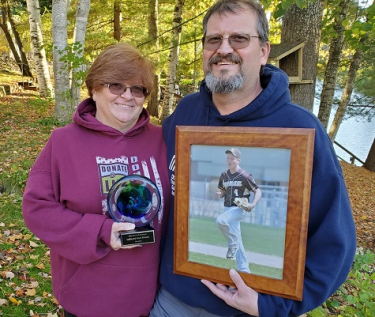 The couple, who tragically lost their 18-year-old son, Evan, in 2015, have signed up thousands to the Michigan Organ Donor Registry as they've shared their story at events and through the media. Gift of Life Michigan recently honored them with the 2020 Volunteer Donation Champion award for their advocacy.
"Lydia and Ward are very passionate ambassadors for organ donation and are always willing to help," said Kim Zasa, volunteer coordinator for Gift of Life. "Their incredible dedication to encouraging others to join the Donor Registry has given hope to those who are waiting."
Evan Kimball was killed in a deadly car accident in 2015. Already registered as a donor, his gifts saved the lives of four people, two more gained the gift of sight, and Evan's donated tissue helped dozens more. Ward and Lydia said they wanted to expand even further on Evan's legacy and dedicated themselves to sharing their story and encouraging others to sign up as donors.
"It's something that gives us purpose in honoring him and his selflessness," Ward said.
Lydia created business cards with a personalized donor registration link to share with the community. They've told Evan's story at every possible opportunity. Lydia used the hashtags #evanstrong and #givelikeevan to reach out to their large northern Michigan networks of friends and family.
Their goal is to sign up 4,444 new donors, in honor the number four that Even wore on his jersey as a high school baseball player. They're halfway there.
The Michigan Secretary of State's office recognized Lydia and Ward for their extraordinary efforts to promote organ, eye and tissue donation with the Secretary of State Shining Star Award in 2017. Last year, they were honored with a national Volunteer Service Award from Donate Life America.
The Kimballs are among the 15 individuals and three hospitals honored by Gift of Life Michigan for their efforts to educate the community about organ and tissue donation and to encourage people to sign up on the Donor Registry. Other winners include:
Hospital Educator: Wendy Lavin, Sinai-Grace Hospital, Detroit
Community partner: Wayne State University, Detroit
Donation storyteller: WLNS, Ch. 6 TV, Lansing
Hospital executive leader: Dr. Harry Anderson, St. Joseph Hospital – Ann Arbor
Transplant Center Professional: Jennifer Fogarty, Beaumont Health
Hospital Spiritual Care: Cindi VerHeer DeYoung, Spectrum Butterworth, Grand Rapids
Medical Examiner: Dr. Joyce deJong, Medical Examiner
Honoring Life Through Donation Award: Chad Milton, Grand Rapids
Nurse: Elise Pavlick, Henry Ford Hospital, Detroit
Physician: Dr. Robert Beck, Bronson Methodist Hospital, Kalamazoo
Donation Liaison: Kathi St. Pierre, Northern Michigan Hospital, Petoskey
Funeral Professional: Rita Jordan, O.H. Pye, Detroit
Secretary of State employee: Kelly Davis, Shepherd
Multicultural Difference Maker: Terra DeFoe
Innovation Award: Phil Douma, Michigan Funeral Directors Association, Okemos
Donor hospital of the year: Hurley Medical Center, Flint
Legacy Award: Dr. Theresa Jacobs, Michigan Medicine, Ann Arbor