Gift of Life Michigan is celebrating its first Great Place to Work certification from Great Workplaces, a California research firm that gathers data from more than 100 million employee surveys nationwide.  
Great Workplaces then recognizes top companies that have built outstanding performance, engagement and workplace culture. The firm releases its list of best places to work in the world and it is shared in publications such as Fortune magazine.  
Gift of LifeLINES talked with Gift of Life Human Resources Director Meghan Hudson about what the certification means for this organization, its staff and leadership.  
Gift of LifeLINES: How did Gift of Life become certified as a Great Place to Work?  
Meghan: Gift of Life Michigan employees were invited to participate in a 61-question engagement survey in November. These questions covered the areas of pride, camaraderie, fairness, respect, and credibility, and make up what Great Workplaces refers to as the Trust Index.  
Our responses as an organization were then measured alongside the responses of other similarly sized organizations across the world. In addition to the survey results, the certification process looks at the employee experience, which includes things like benefits and flexibility.  
Gift of LifeLINES: What does it mean to Gift of Life Michigan that it is certified as a Great Place to Work?  
Meghan: Being certified as a Great Place to Work is always an honor, but we feel especially honored after navigating the challenges presented in 2021. The Great Places to Work distinction shows that we've been able to provide our employees with an environment that supports them and their commitment to our mission. We're so proud of that!   
But more importantly, the certification process gave us an opportunity to hear from our staff, and we are grateful for their feedback. What we learned from the results will help us grow and improve – two things that will be critical in 2022.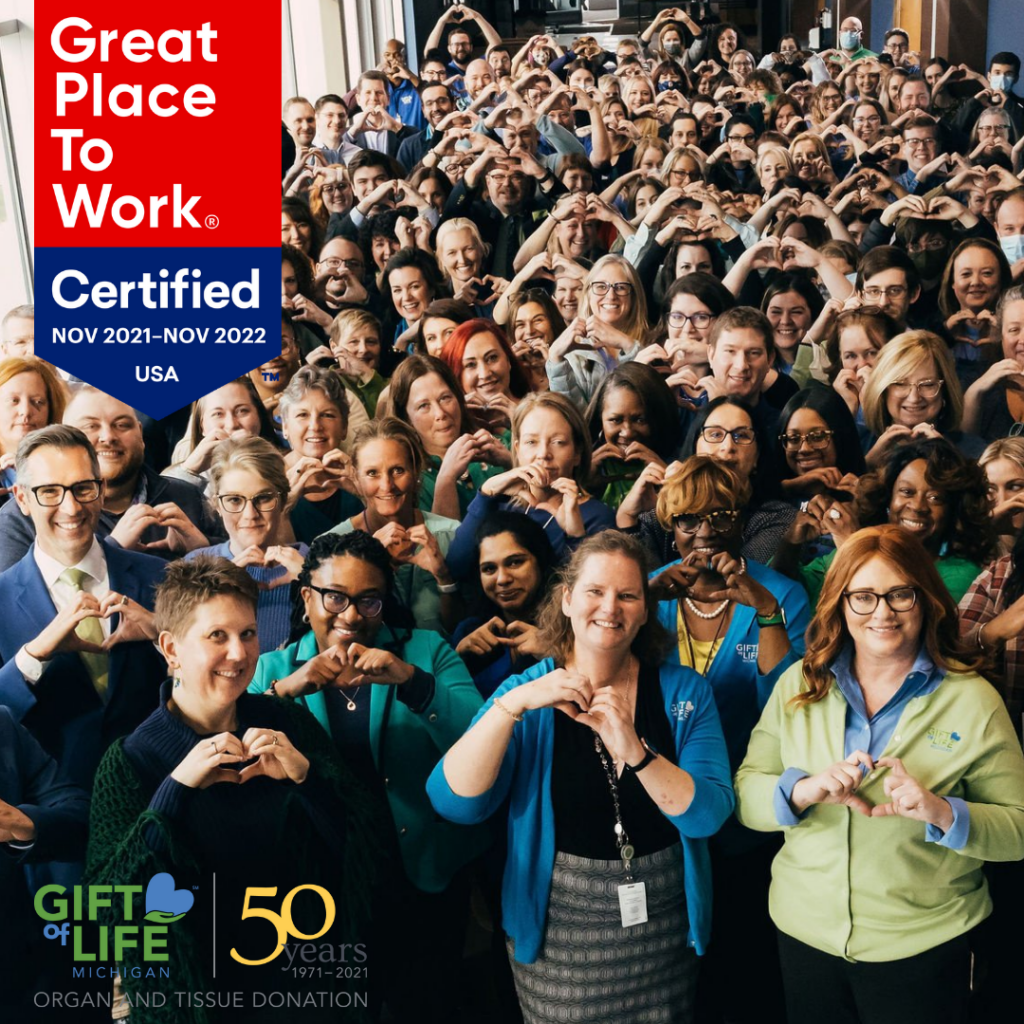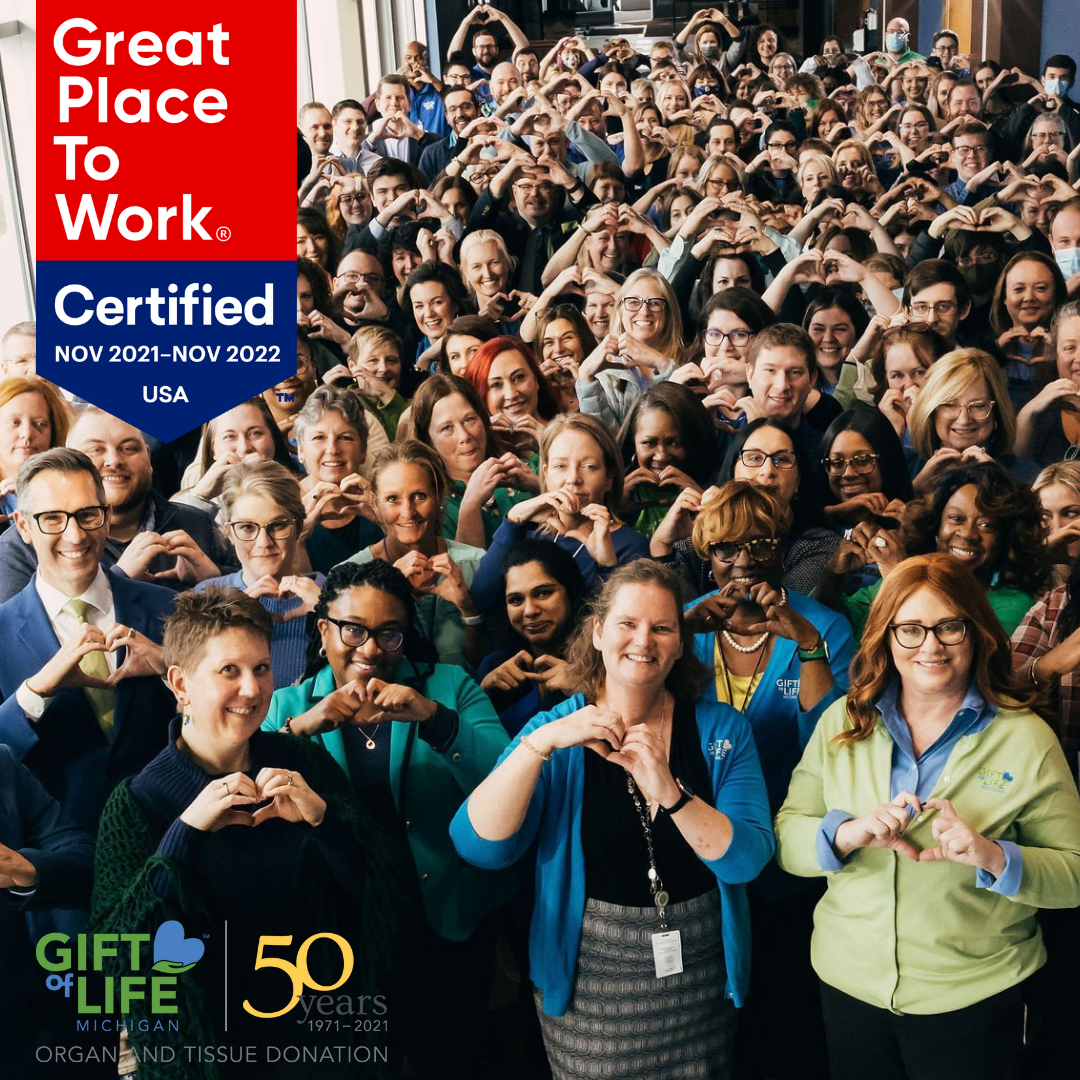 Gift of LifeLINES: What aspects of the survey did the staff score highest?
Meghan: No surprise here: Our highest-scoring areas were around our mission and the pride our employees have in the work they do. 
Of the responders, 92% said they feel good about the ways Gift of Life contributes to the community; 91% said they felt their work has special meaning and 90% said they take pride in their accomplishments and they're proud to tell others they work for Gift of Life. 
We're fortunate to have an organization staffed by incredibly committed people who are determined, professional and compassionate in their efforts to honor life through donation.   
Gift of LifeLINES: What were the results and how does Gift of Life compare to other organizations and companies?  
Meghan: The survey revealed that 74% of employees feel that Gift of Life is a great place to work. The threshold for certification is 70%. 
By comparison, the average company surveyed by Great Workplaces had a 59% positive response.  
Gift of LifeLINES: Were there any surprises?  
Meghan: We were not surprised by any of the feedback, but it was eye-opening to see how much of an impact some very basic improvements can make to our scores. We know communication has been variable over the last year and a half, but seeing how impactful stronger, more transparent and consistent communication can be was really good feedback for our leaders.  
We want everyone to feel like they not only have a voice, but that it's also heard. We plan to strengthen our communication, involving the right people in conversations and highlighting the "why" behind our decision-making as often as we can.   
Gift of LifeLINES: How will this certification help the organization?  
Meghan: From an external perspective, it helps bring notoriety to our organization. It's beneficial for both marketing and recruitment, helping to spread the word about the incredible work we do and attracting top talent to be a part of that.  
Internally, the certification process will help us continuously improve while providing an opportunity for voices to be heard.