Volunteer honored posthumously for work with Gift of Life Michigan
Kenton Kurth never met a stranger.
"He never met anyone he didn't like, and I don't think anyone didn't like him," said Sarah Kurth, his wife of 35 years.
A retired Grand Rapids teacher, coach, occasional stand-up comic and dedicated volunteer, Kenton was posthumously honored with Gift of Life's 2022 Volunteer Champion award. He passed away suddenly on March 10, just three weeks before he could accept the honor he was thrilled about. He was a popular volunteer with Gift of Life, sharing his story with young people – and often driving across the state to do it.
"He was very passionate about it," Sarah said. "He truly took it to heart that he had the time, he had the skills, and he had the means. He had the opportunity to give back. He loved doing it."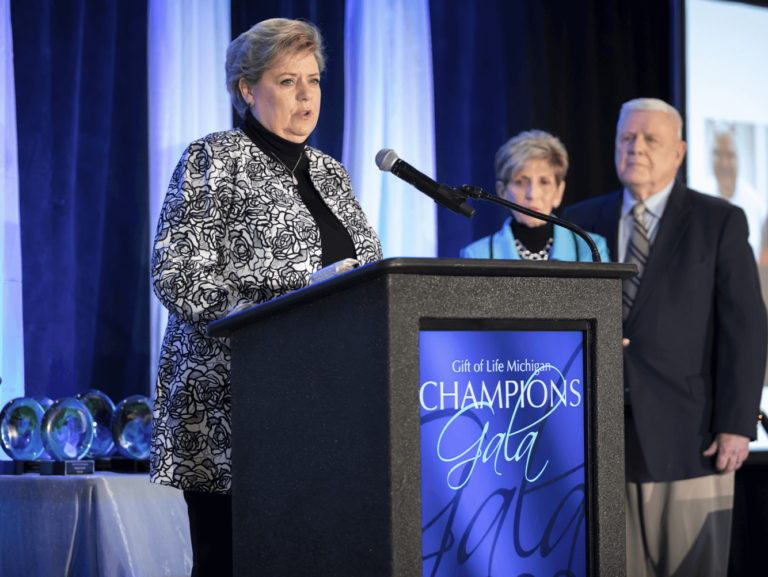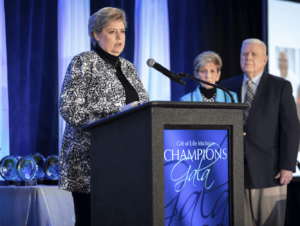 She met Kenton in college. He had always been an active person, playing golf and basketball, but was diagnosed with Type 1 diabetes when he was 30. His condition took its toll, leading to dialysis and early retirement from the Comstock Park School System, where he spent more than 20 years as a teacher, golf, and basketball coach.
His life was saved in 2016 when he received a new kidney and pancreas.  Kenton met the family of his donor, Tomis, two years later. Tomis' family met Kenton's in 2019 when the Kurths' son Nathan was married.
"I now have the "get-up-and-go" to give to my community by volunteering my time with worthy organizations," Kenton said after recovering from his transplant.
Gift of Life Michigan was a natural fit. In fact, Sarah said the first time Kenton visited a class of high school seniors he learned that he had seen them all before – when they were in the fifth grade. They were in the last class he taught before he retired. That sealed the deal for him.
"It just clicked," Sarah said. "They treated him like a rock star. He was just inundated with love. He loved being with the kids. It was a perfect combination of his passion with Gift of Life and being in the classroom – and liking to talk."
Kenton often drove 100 miles to Flint to share his story with students there, even though the two-hour trek meant he would have to leave before sunrise to make it to the schools by 7:30 a.m.
Shalonda Griffin, a community outreach coordinator for Gift of Life, nominated Kenton for his award.
"We were so lucky to have him," she said. "He was very passionate, and he knew how to engage with the kids. He was a good man; a good partner and he'll be sorely missed."
With the gift of time that came with his transplant, Kenton was able to watch his children graduate from college and start families of their own and meet his grandchildren.  "He was able to see all of that because of Tomis, his donor," Sarah said. "It was the greatest of blessings."
To sign up as a volunteer with Gift of Life Michigan, visit golm.org/volunteers.