After more than three decades in leadership at Gift of Life Michigan, the Association of Organ Procurement Organizations (AOPO) has recognized Anne Kowalczyk with its Lifetime Achievement award.
Gift of Life's recently retired CFO was pivotal in making sure the organization is financially prepared to fulfill the wishes of donors and their families well into the future, said President and CEO Dorrie Dils. Anne stepped away from her daily position at Gift of Life last year because of health issues.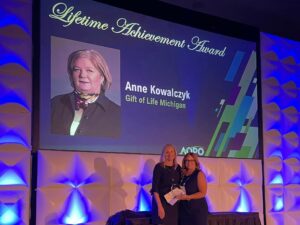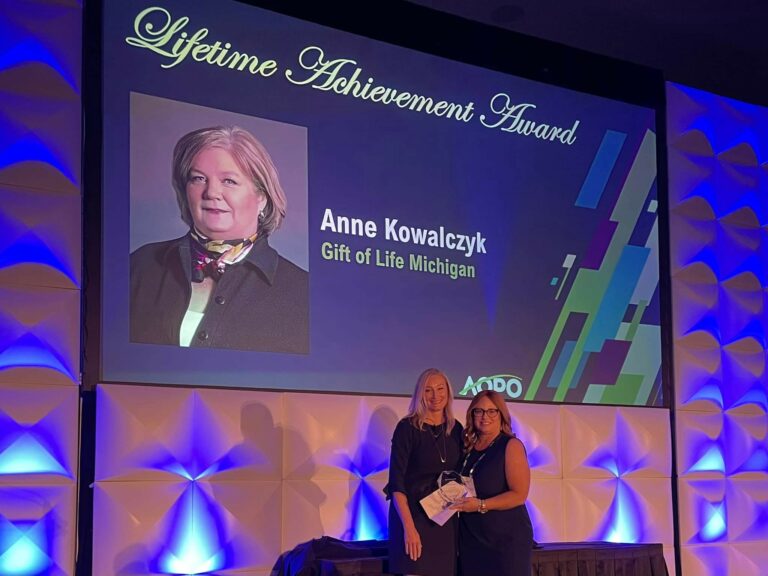 "In her 34 years, Anne played an integral role in our tremendous growth in staff and budget from six figures to over $100 million this year," Dorrie said. "She's a finance whiz with a heart to match. We wish her all the best in her healing and in retirement. Nobody deserves it more."
Anne's attention to detail and expertise allowed Gift of Life to build a $14.3 million surgical center and ICU. The Donor Care Center, which opened in 2016, is crucial to helping further secure Gift of Life's ability to save and transform lives.
"I loved my job on the very first day in 1988 and it still remains a passion for me today," Anne said. "I wasn't 'in the clinical trenches', but I would tell anyone who would ask what I did at Gift of Life Michigan that – in my own way – I was helping save and transform lives. How many accountants get to say that?
"Thank you to my Gift of Life work family and Michigan's donation and transplant community, for entrusting me with this important mission and your support over these many years. I am grateful to you all."