Doug Starr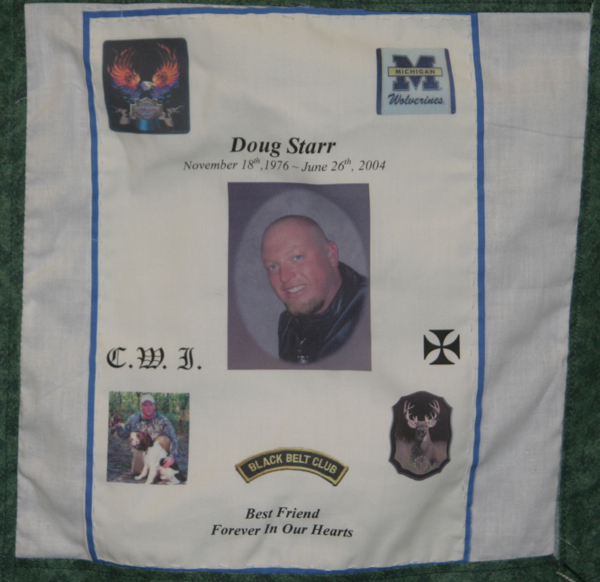 Douglas Wayne Starr (11/18/76-6/26/04) died in a motorcycle, pickup truck accident. He was 27 years old. Doug had a new Harley-Davidson motorcycle. The driver of the truck was drunk and ran a red light. Doug was pronounced dead at Hurley Medical Center in Flint a few minutes later. Doug had to have an autopsy. His body was taken to Oakland County. At the hospital the family decided to donate to the Gift of Life. It was a joint decision. Knowing Doug, we figured he would have wanted that. We knew it was too late for vital organs. There are so many other things in a human body that can be of use to enrich or prolong other human life. That has proven true in Doug's case. A child from Saginaw, MI has sight and 86 other surgical procedures have been performed. Those receiving these grafts were as young as 18. An 18-year-old woman required the replacement of an upper thigh bone due to cancer. An elderly lady with a severely fractured hip also received tissue donation. Other procedures include 23 orthopedic fractures, 8 neurological procedures and several tumor resections. All these grafts have enriched the lives of these patients by reconstructing joints, fusing vertebrae, alleviating pain and restoring mobility, appearance, and function.
Doug was a very caring young man. We take comfort in knowing that Douglas lives on through these gifts to others. Doug was a big man with a big heart. He never met a stranger. He was a gentle giant. He was the first boy in three generations of our family. That made him special. He was the heart of our family. Doug grew up in the country. He loved being out-of-doors. Hunting was dear to his heart; he usually hunted deer, pheasant and turkey. He loved riding his motorcycle. He had rode in several Charity rides. Doug had a very good job as a certified welding inspector. His job required a lot of traveling in the United States and Canada. He also loved Karate.
It broke our hearts to lose him, but we all plan to see him on the other side.