Legislators,

transplant

recipients, donor families urge Michiganders to 'Check Your Heart'
There was a clear message echoing across the lawn of the Michigan Capitol recently: Check Your Heart.
Supporters of organ and tissue donation, including transplant recipients, legislators, volunteers and more joined Gift of Life Michigan in Lansing to celebrate new life, honor donors and their families, and to urge others to sign up on the Michigan Organ Donor Registry at a Check Your Heart rally on the capitol steps.
"Check Your Heart isn't just a catchy phrase. It's about making sure that everyone who wants to donate life to help others documents that decision. Lives truly are at stake," said Bruce Nicely, vice president of clinical operations at Gift of Life Michigan. "We need everyone in Michigan to look at their driver's license or state ID. Even if you think you've signed up on the Michigan Organ Donor Registry, take a moment and look for that little red heart to make sure you signed up. If not, you need to fix it. It really matters."
Gift of Life launched the Check Your Heart campaign earlier this year, with the goal of adding more than one million Michiganders to the Donor Registry. More than 90% of Michigan residents support organ and tissue donation, yet only about 55% have signed up. In other states, that percentage is as high as about 70%.
"Michigan, we can do better," Nicely said.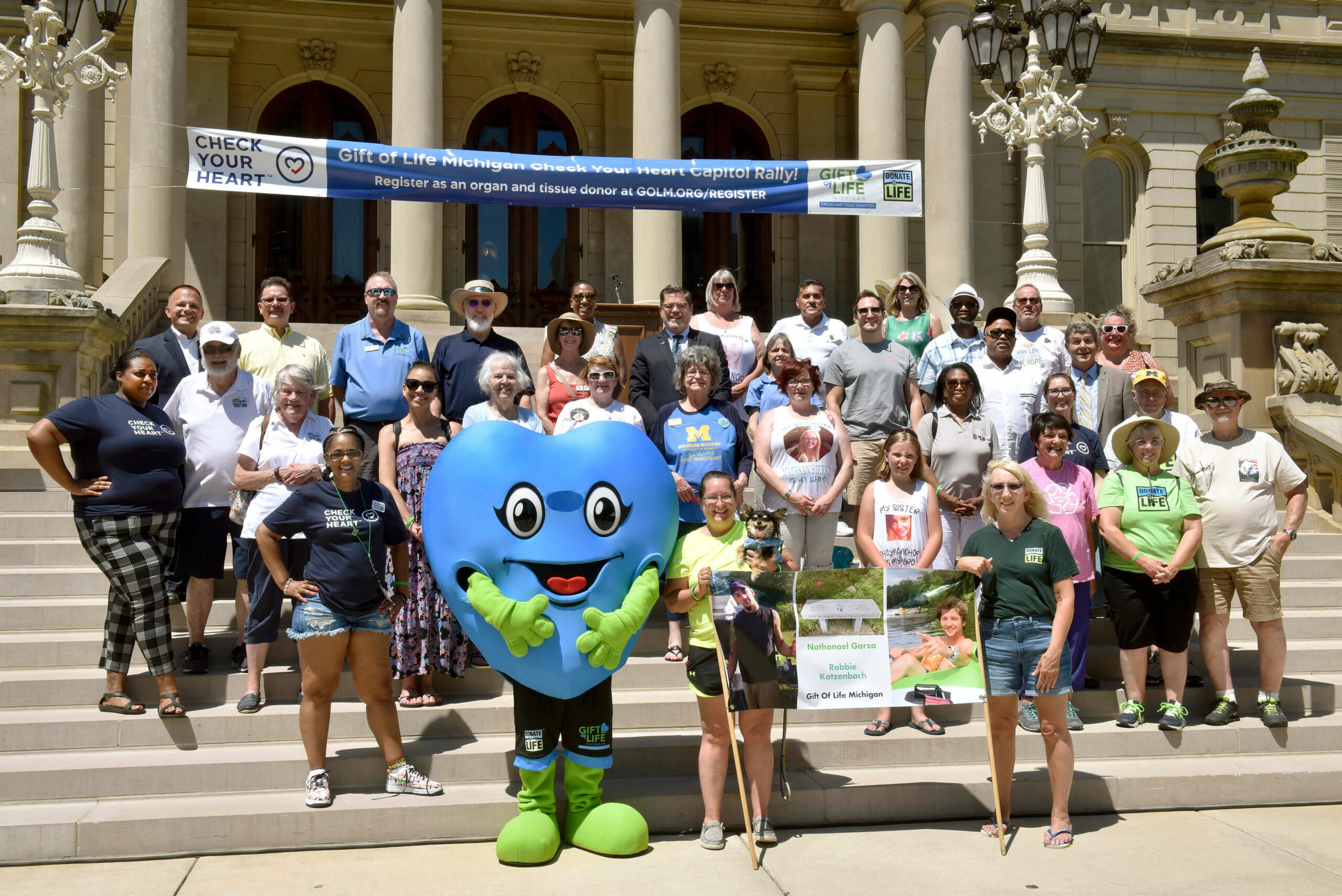 The rally also featured comments from State Sen. Kevin Daley, who authored legislation to allow the Donate Life logo on Michigan license plates to generate funds for education and outreach about donation. Daley's 23-year-old son, Thomas, became a donor after a tree-cutting accident on the family farm.
"We signed up because we thought that's what he would've wanted us to do," Daley said. "We tried to turn a tragedy into an important thing. Adding your name to the Donor Registry is a simple step one person can take to save the lives of many."
John Edmond, whose 7-year-old daughter, Amaia, saved five lives after hers was tragically cut short, said his decision helped him deal with his grief.
"In those moments, I reflected on Amaia's life and I decided to start her legacy," Edmond said. "She loved to help people. I had to find a way to give back. I'm forever grateful for the lives that have been saved. That's the key for me."
Mike Lopez received Amaia's liver. "I didn't know if I was going to live one more day or not. I know I was getting close to the end," Lopez told the crowd. "I'm forever grateful."
The rally also served to celebrate recent legislation that will allow organ and tissue donation to save even more lives, and to show support for pending legislation that will extend the message to even more people.
The HOPE Act, approved by the legislature and signed by Gov. Gretchen Whitmer last year, will allow organs from HIV positive donors to be transplanted into HIV positive patients, a first in Michigan. The Patient Access to Donor Registry Information bill, introduced by State Rep. Lori Stone of Warren and State Sen. Wayne Schmidt of Traverse City, would encourage family physicians and urgent care centers to provide information about organ, tissue, eye and bone marrow donation and about joining the Michigan Organ Donor Registry.
"Our hope is that the same bipartisan support that brought the HOPE Act to fruition will move their bill swiftly through the process and into law," said Dorrie Dils, President & CEO of Gift of Life Michigan. "We stand ready to provide family doctors in Michigan with educational materials and the resources they will need to have meaningful conversations with their patients."
About 2,400 people are waiting in this state for a life-saving organ transplant. About 106,000 people are waiting in the U.S.
"There's no reason in the United States of America for people to wait in line for their lives to be saved," said Dils. "We will continue to work hard every day until the waiting list no longer exists."
For more information or to sign up as a donor, visit golm.org/register.