Fourth annual ceremony celebrates winners statewide
Gift of Life Michigan honored 17 individuals, four partner organizations, and one hospital with 2022 Donation Champion awards, recognizing their extraordinary efforts to help fulfill the wishes of organ and tissue donors and their families. 
The fourth annual Champions Gala kicked off National Donate Life Month, with special tributes to the best of the best in Michigan's donation and transplant community. "We can't do it without you. You are our champions at every step along the way," Dorrie Dils, President and CEO of Gift of Life Michigan told the crowd. "Because of what you do to help Gift of Life honor life through donation, a record 429 patients and their families donated organs last year. Those gifts resulted in nearly 1,100 organs transplanted.  
"Just think of all the patients and their friends and families we touched, like a pebble in a pond," she added.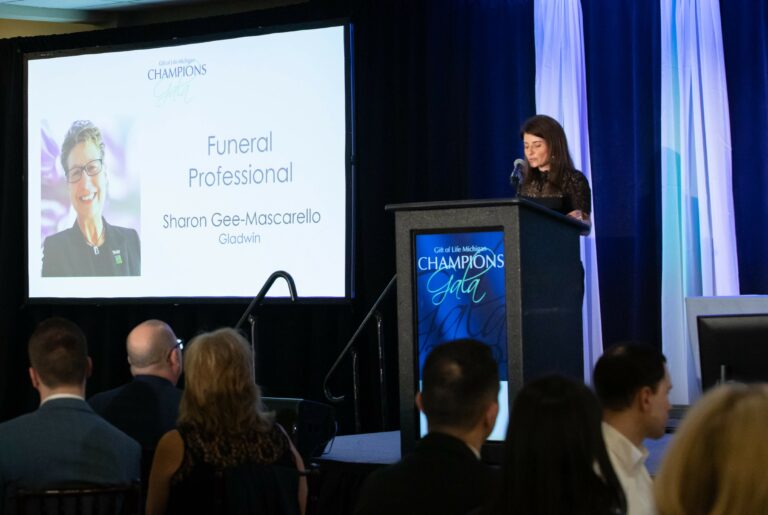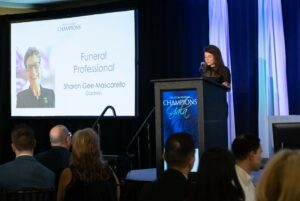 The Champion Award winners are: 
Secretary of State Employee: 

Sai Jones, Secretary of State Branch Office, Livonia

 

Taking Initiative:

Silvey's Transportation, Upper Peninsula 

 

Advocacy:

Susan Hanna, Ascension Borgess Hospital, Kalamazoo 

 

Volunteer: 

Kenton Kurth, Grand Rapids  

 

Community Partner: 

Michigan HOSA 

 

Legislative Partner:

State

Rep. Felicia Brabec, Ann Arbor 

 

Multicultural Difference Maker: 

Londel Cook, Saginaw 

 

First Responder: 

Kristen Main, Battle Creek

 

Donation Storyteller: 

April Morton, CBS 62 

 

Medical Examiner: 

Dr. Michael Markey, Medical Examiner, Eaton, Ingham, Ionia, Isabella & Shiawassee counties 

Hospital Spiritual Care:

Michael Goddard, McLaren Pontiac Hospital 

 

End-of-Life Team: 

Amy Fox, Kristen Keelan, Family Support and End-of-Life Team, Ascension St. John Hospital 

 

Nurse: 

Victolyn Flemmings, Detroit Receiving Hospital & University Health Center 

 

Physician: 

Dr. Thomas Gravelyn, St. Joseph Mercy Hospital, Ann Arbor  

 

Donation Liaison: 

Maureen Bishop, Spectrum Health Lakeland St. Joseph Hospital 

 

Funeral Professional: 

Sharon Gee-Mascarello, Gladwin 

 

Transplant Center Professional: 

Joann Brooks, Michigan Medicine, Ann Arbor  

 

Hospital Executive Leader: 

Dr. Larry Ramunno, DMC Sinai-Grace Hospital, Detroit 

 

Innovation Award:

Laboratory, Beaumont Hospital, Royal Oak

 

Honoring Life Through Donation Award: 

Dr. Chandan Mehta, Henry Ford Hospital, Detroit  

 

Donor Hospital of the Year: 

Beaumont Hospital, Dearborn  

 

Legacy Award: 

Bill Madek, Henry Ford Hospital, Detroit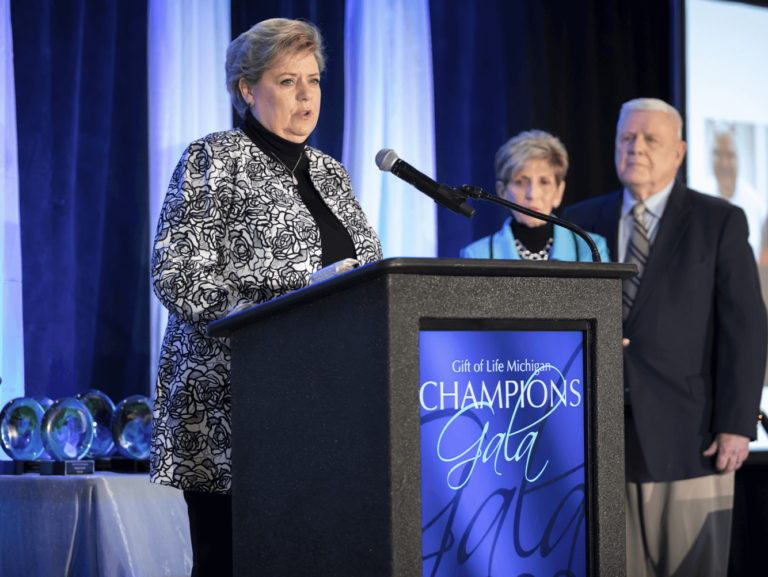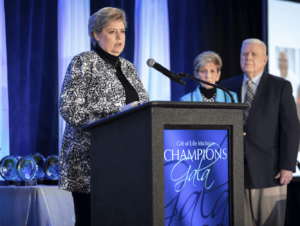 Kenton Kurth passed away three weeks before the event received his award posthumously. It was accepted by his wife, Sarah (see related story).
Dils said she was honored to work with so many passionate advocates throughout the state.  
"Saving lives is a humbling mission," she said. "We also are humbled to carry it out with all of you right there with us."