Michigan's organ and tissue procurement program is taking precautions to protect staff, patients and the community
Dorrie Dils, CEO of Gift of Life Michigan, recently announced the organization would require COVID-19 vaccination for all staff, beginning Sept. 10, 2021. The organization took this step for the safety of staff, donor families, and organ and tissue recipients as well as to protect the health and well-being of its hospital partners throughout the state. The continued spread of COVID-19 variants is a reminder that the pandemic is not over.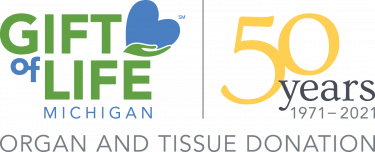 In a communication to staff, Dils wrote, "This was not a decision made lightly. One of our core values is compassion. I am asking you to have compassion for one another, to protect one another, and to contribute to eliminating this devastating virus in our community."
Based in Ann Arbor, Gift of Life Michigan worked with the Washtenaw County Health Department to provide vaccinations to staff as soon as it was available to them. To date, about 70 percent of staff have been vaccinated.
By Sept. 10, 2021, all employees will be required to be vaccinated or receive an approved exemption. Staff should be prepared to provide documentation that they have completed the COVID-19 vaccination process (example: two doses of Pfizer or Moderna; one dose of J&J) or an approved exemption.
Gift of Life Michigan staff members routinely work in hospitals throughout Michigan. Once Henry Ford Health System and Trinity Health required vaccination, and with more hospitals and health systems expected to follow suit, Gift of Life Michigan fully embraced these requirements, not just for those who work in hospitals but for all staff.
"Gift of Life Michigan is a leader in advancing community health," Dils said. "We have taken this public health crisis extremely seriously since the beginning of the pandemic, taking steps to protect our staff, donors, donor families and the communities we serve. Even as restrictions are being lifted throughout the state, we know the pandemic is not yet behind us. It's important for us to set an example and take every precaution we can to keep our communities as safe and healthy as possible."