In a collaborative endeavor by the National (Organ, Eye, and Tissue Donation) Multicultural Action Group (NMAG), National Minority Donor Awareness Month strives to educate and inspire multicultural communities to consider organ donation.
NMDA members include the United Network for Organ Sharing (UNOS), Donate Life America (DLA), the Association for Multicultural Affairs in Transplantation (AMAT), National Minority Organ Tissue Transplant Education Program (MOTTEP), to mention a few.
Why is National Minority Donor Awareness Month Important?
Minority groups, including African Americans, Native Americans, Hispanic/Latinos, and Asian Americans, are typically underrepresented in organ and tissue donations. Yet these communities are overrepresented on the national waiting list for an organ transplant due to higher rates of hypertension, diabetes, and other illnesses that lead to organ failure. National Minority Donor Awareness Month is important because it helps to correct this health disparity.
NMDAM also creates equity within the healthcare system by educating marginalized communities about the significance of donor registration.
Matching Donor Organs and Tissues for Transplantation: Does Race Matter?
According to Donate Life America, there are increased chances of blood type and tissue marker compatibility among members of similar ethnicity.
Still, race and ethnicity often don't always factor in organ matching. The blood type and antibody profiles must match when looking for a match on the national transplant waiting list.
Other factors considered in determining an organ match include how sick a patient is, how long they've been on the national transplant waiting list, the tissue type, and how far the donor is from the recipient's hospital.
Additionally, the organ donation process is complex and calls for a coordinated effort of many people and organizations. When an organ becomes available from a deceased or living donor, it is matched to the most compatible recipient for transplantation by organ size, tissue type, blood type, and other medical criteria.
It may be a long, arduous process, but an essential one nonetheless since, unfortunately, more patients are waiting for a life-saving organ transplant than available donors.
While National Minority Donor Awareness Month focuses on organ and tissue donation and transplantation in multicultural communities, you can help by registering as an organ donor regardless of race or creed. Mayo Clinic transplant surgeon Ty Diwan, M.D says the best way to improve donor access and increase the recipient's chances of survival is to be a willing organ donor.
Why Should I Join the Organ and Tissue Donor Registry?
For some people, registering as an organ donor is a personal preference. To others, it is a selfless decision and a way to continue their legacy by saving a life.
One organ and tissue donor can save eight Americans on the transplant waiting list and give them a second chance at life. The generous gift of life-saving organ donation helps save patients who otherwise pass on each day from preventable deaths due to a lack of donors nationwide.
If you've considered organ donation but have some reservations, here are crucial donor facts you need to know:
Organ donation is an opportunity to help someone on an organ waiting list suffering from an end-stage disease that has negatively impacted their quality of life.
Regardless of gender, race, ethnicity, or religious beliefs, there are no restrictions or limits on who can join the Donor Registry.
You can be a donor at any age. It's up to doctors to decide if a donation is fitting based on various factors, including organ and tissue health.
Organ donation is sometimes possible and has been successful even if the donor was ill or had suffered a grave injury at the time of passing away.
Minority populations like African Americans, Latinos, Asian Americans, and Native Americans are more susceptible to kidney diseases. Your selfless decision to gift your organ when you register as a kidney donor may significantly improve someone's overall health. About 106,000 Americans are currently on the transplant waiting list looking to organ or tissue donation as their only medical option. Of the people on the list, 17 will pass away today due to their medical condition and not receiving the organ that would save their lives. By registering as an organ donor, you give them hope and increase the likelihood of their survival.
Even if you're registered as an organ donor and are involved in a tragic situation, your doctor's top priority is to do everything they can to save your life and restore optimal health. Your healthcare team may only consider your organ donor opportunity if and when all life-saving efforts are exhausted.
You must, therefore, talk to your friends, family, life partner, and caregivers about your wishes to be an organ donor. A transplant coordinator will speak with everyone involved at the time of donation to ensure they are well-informed to respect your wishes.
Note that registering with your state is the best way to ensure recognition of your organ donor status. Individuals under 18 ultimately need a parent or legal guardian to authorize their organ donation.
Organ Recipient Success Story
A major obstacle faced by patients with end-stage organ failure and in need of urgent organ transplantation is getting people to register as organ donors. There are more ethnic minorities on the national organ transplant waiting list in desperate need of organ and tissue donors.
While donors are not matched by race and ethnicity, critical qualities such as blood types and tissue markers are more likely found among members of the same race or ethnic background.
Nonetheless, the National Minority Donor Awareness initiative encourages more diversity in the donor pool to increase access to transplantation for everyone.
Mustafa Sharafi was born with a rare and fatal metabolic disorder called Tyrosinemia, which leads to acute liver disease. His older sister, Laura, sadly died from the same condition at four years old.
Fortunately, Mustafa was matched with an organ donor in time. At just 15 weeks old, he became the youngest liver transplant recipient, and today, over 30 years later, he enjoys an active lifestyle and has a son of his own!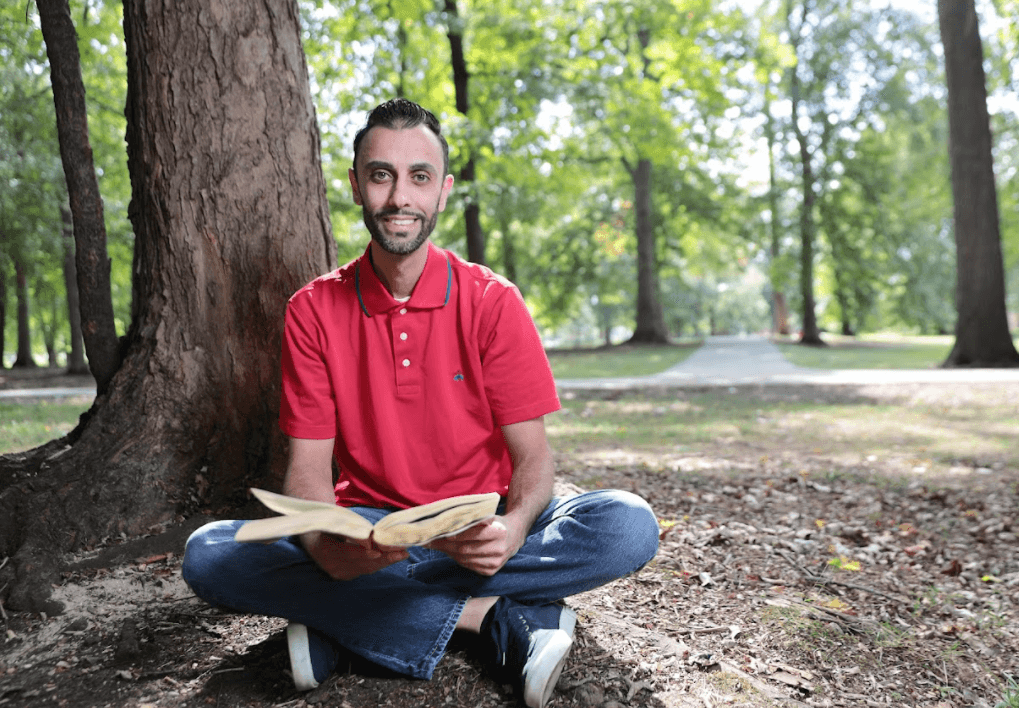 The concept of organ donation is not always widely-accepted in Arab American culture. Nowadays, Mustafa not only volunteers with Gift of Life Michigan but also hopes to change the narrative by educating his family, friends, and community members who are hesitant to sign up for organ donation.
Being an organ donor is the right thing to do; however, talking about it can be a challenging discussion to have.
The aim of celebrating the National Minority Donor Awareness throughout August is to educate multicultural communities and, most evidently, dispel misconceptions associated with the donation process.
It will take you less than five minutes to sign up on the Michigan Organ Donor Registry, a quick and straightforward process that you can complete online today.