Foundation generously supports project to honor donors and celebrate recipients
A stroll down the long hallway of Gift of Life's Donor Care Center in Ann Arbor is giving visitors a look at how donation works with photos, graphics and words.
In all, six displays honor donors, celebrate new life for recipients and explain organ and tissue donation in steps that begin with donor registration and hospital referral and follow the journey to surgery and transplant.
The graphics are installed in the 50-foot hallway where organ and tissue donors give their final gifts. It allows visitors to tour, learn about donation, and see how it transforms life every day.
The project was underwritten by the Gift of Life Foundation.
"We're incredibly proud to have helped make this beautiful tribute come to life," said Susan Rink, chief of philanthropy and foundation programs. "To see the faces of donors – our heroes – and hear how they changed so many lives really makes donation real for so many. It also helps people understand what one donor can do for others."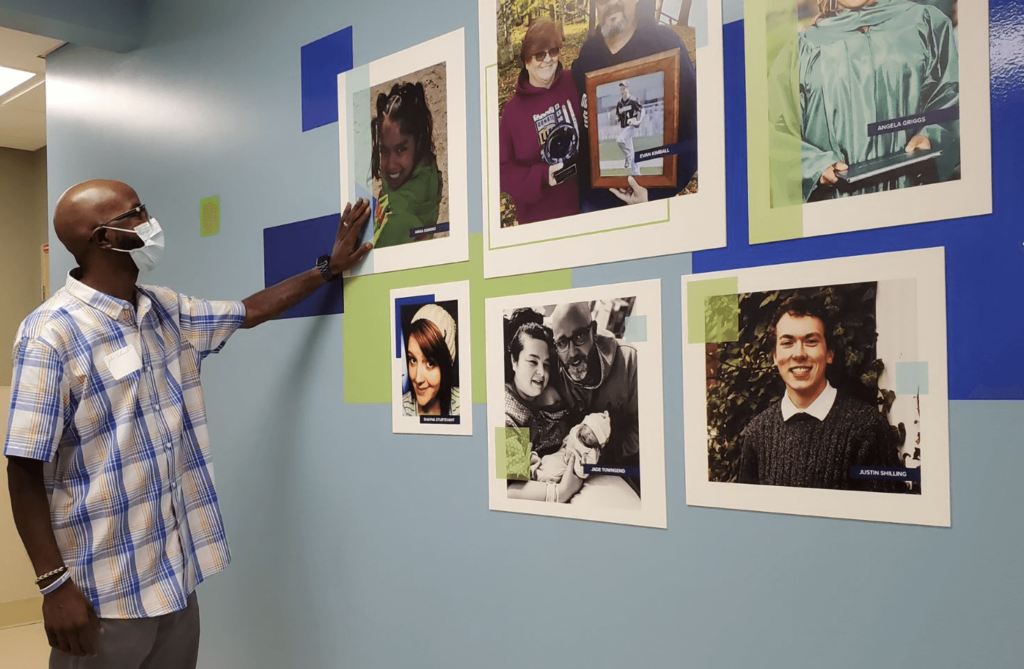 The first tours were given to about 200 visitors who attended Gift of Life's Check Your Heart open house in August. The donation process mural gave them a glimpse of certain aspects of donation they weren't aware of, including a Moment of Reflection pause by Gift of Life staff and transplant teams for every organ and tissue donor.
"The fact that the tour begins with donors and ends with recipients is a perfect way to show that without donors there are no transplants," said Dorrie Dils, president and CEO of Gift of Life. "This addition to our Donor Care Center is a point of pride and it has captured the hearts of our visitors."
Artelia Griggs' 38-year-old daughter, Angela, is one of six donors represented on a display featuring donors. Angela – a registered donor – died of an asthma attack 12 years ago.
"To see her face there and know that she helped so many makes me incredibly proud," Artelia said. "As the mother of a donor, I can't say enough about what this beautiful project in Ann Arbor means for all of us – and for the legacies of our family members."